This has been a very busy fall for Troop 6! On the weekend of October 6-8th, 32 scouts, parents, and leaders for Troop and Pack 6 spent the weekend along with 5000 other scouts and scouters at MassJam '18 on Cape Cod. This was a huge jamboree that involved scouts from all over Massachusetts and the surrounding states. The scouts shot off rockets, climbed rock walls, ran obstacle courses, traded patches, and even attended a live concert with Country star Jessie Chris! Everyone had a great time and it was a nice opportunity for our Arrow of Light Webelos to hang out with the scouts from Troop 6. Many thanks to the parents and leaders that made it all work out!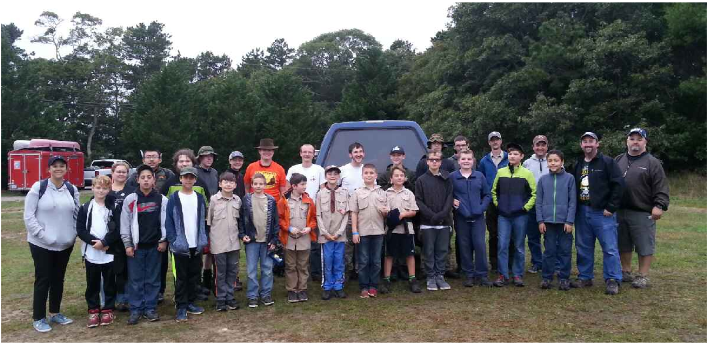 On October 13th, the Troop held the official Court of Honor for our three newest Eagle Scouts: Joseph Desmond, Jacob Gordon, and Ryan Laroche. The ceremony was well attended with friends, family, and community members that came to see these outstanding young men receive the highest rank in Scouting.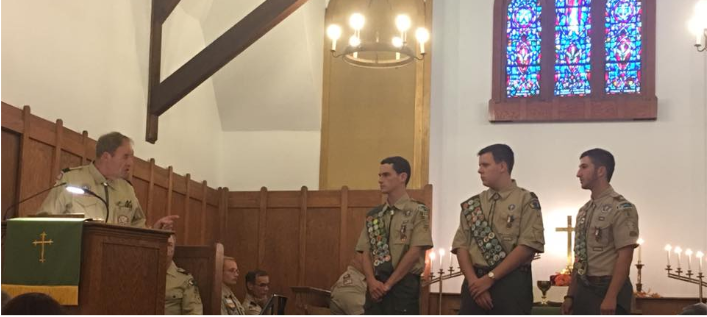 Next month we are off for a Wilderness Survival adventure in NH, then hopefully ice fishing in January, and then skiing in February. If you have a middle school or high schooler that is interested in joining us, please don't hesitate to stop by! We are always accepting new scouts and prior experience is not necessary. We meet on Monday nights from 7-8:30PM at the Houghs Neck Congregational Church.
Troop 6 does a fantastic job of keeping our program affordable for all scouts, and our bottle and can drives are one of our biggest fundraisers. Our next bottle drive is November 10th from 9-12 in Labrecque Field parking lot. Our bottle drives will continue to be on the second Saturday of every month, weather permitting. Please consider donating your soda and beer bottles and cans to us rather than tossing them in your recycling. As our Troop grows, the money we earn is being spread thinner and thinner and we really want to continue to run a program where all the activities can be paid for through the boys fundraising efforts. Please feel free to call if you need a pick up!
Yours in Scouting,
Rob Gordon, Troop 6 Scoutmaster
Categories: None