While most of us are thrilled to see the snow finally going away, the scout wanted one last weekend out in the winter wonderland, and we spent the weekend of March 21-22 down at Camp Massasoit playing in the snow! The boys all worked together to create "Quinzees," or snow shelters, and we even had two brave souls spend the night in them. Congratulations to Jake Gordon and Matt Mroz for having the courage and fortitude to spend the night in your shelters!!! The rest of us spent the night in the cabin. We also had a few epic snowball fights, built a pretty funny snowman, learned how to perform ice rescues, worked on our knots, and made survival bracelets. All in all, it was a great trip!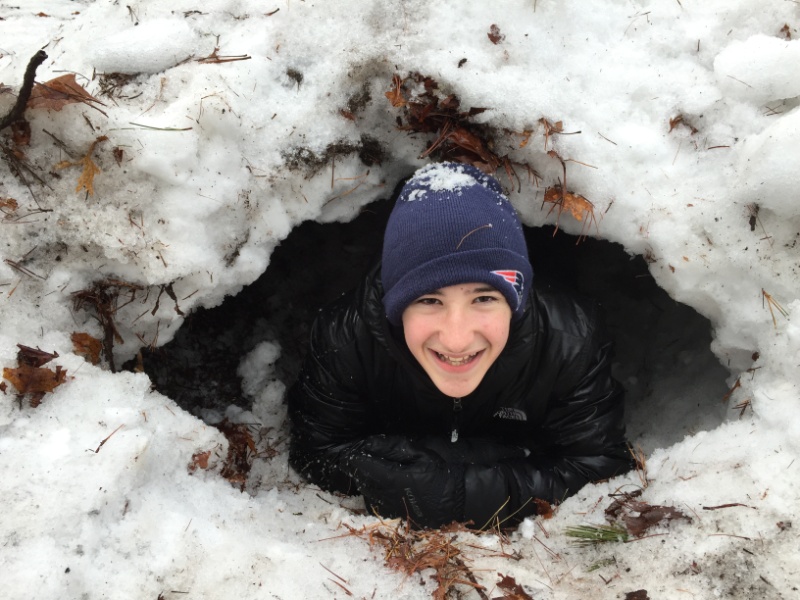 Back on February 28th, all three patrols from the Troop made entries into the Houghs Neck Congregational Church Chili Cook Off. While none of the entries made it into the top 3, they did extremely well and the Task Force Patrol was the Troop 6 Champs! These guys received a medal for their patrol box and congratulations to Matt, Ryan, Shawn, Joe, Cameron, Andrew, and Brody!!!
During the past month we have been working hard at learning or brushing up on our First Aid skills and hope to complete the merit badge soon. We also attended a City Council Meeting as one of the final requirements for Communications Merit Badge. In addition, Ben Brownlow and John Bonfiglioli submitted their final paperwork for Eagle Scout! Only 1 in every 50 scouts makes it this far, so we are incredibly proud of these young men. Alex Samsel will officially receive his Eagle Scout Rank in a ceremony on April 25th. If all goes well, Troop 6 may be awarding 5 Eagle badges in 2015 – this is an absolutely incredible number for a troop our size!
Please mark your calendars – April 11th is going to be the 5th Annual Friends of Troop 6 Adult Pinewood Derby! This is a major fundraiser for the Troop, and is a lot of fun. Dust off your old car from your childhood, or make the car you always wanted to, but couldn't as a kid. Or, just come down and have some food and drink and enjoy the fun!
Our next bottle drive is April 11th from 9-12 in Labrecque Field parking lot, and will continue to be the second Saturday of every month. Please remember that the bottle drives are our main means of fundraising for the Troop, and we really appreciate your contributions. Please feel free to call if you need a pick up!
Yours in Scouting,
Rob Gordon, Troop 6 Scoutmaster
Categories: None