Troop 6 News…
Wow!!! What a week of summer camp we had! We took 22 scouts, ranging in age from 11 to 17, to T.L. Storer Scout Reservation in Barnstead, New Hampshire. The boys had a great week of nice weather with only a little bit of rain, and that is a miracle for summer camp! The scouts worked on a wide variety of merit badges, including Horsemanship, Swimming, Wilderness Survival, Art, Environmental Science, Safety, Animal Science, Kayaking, Emergency Preparedness, Painting, and Automotive Maintenance. After lunch, we kept busy with climbing the giant inflatable K2 on the pond, throwing tomahawks, shooting rifles, water trampolines, climbing towers, and an epic water melon tussle. We also had an excellent showing during the camp wide games, participated in the Order of the Arrow hour of service, and managed to get a few perfect scores on our camp site inspections as well. Not quite a relaxing week, but it was a ton of fun! A special thanks to the leaders who gave up a week of vacation to spend with the troop – Mike Berry, Shawn Donahue, Rob Gordon, Brian Laroche, Carl Reich, and our pro-golfer John Toler. Thanks also to Jack Bonfiglioli and Aaron Cavin who came up for part of the week and brought us news of the outside world. Please check out our website for lots of photos.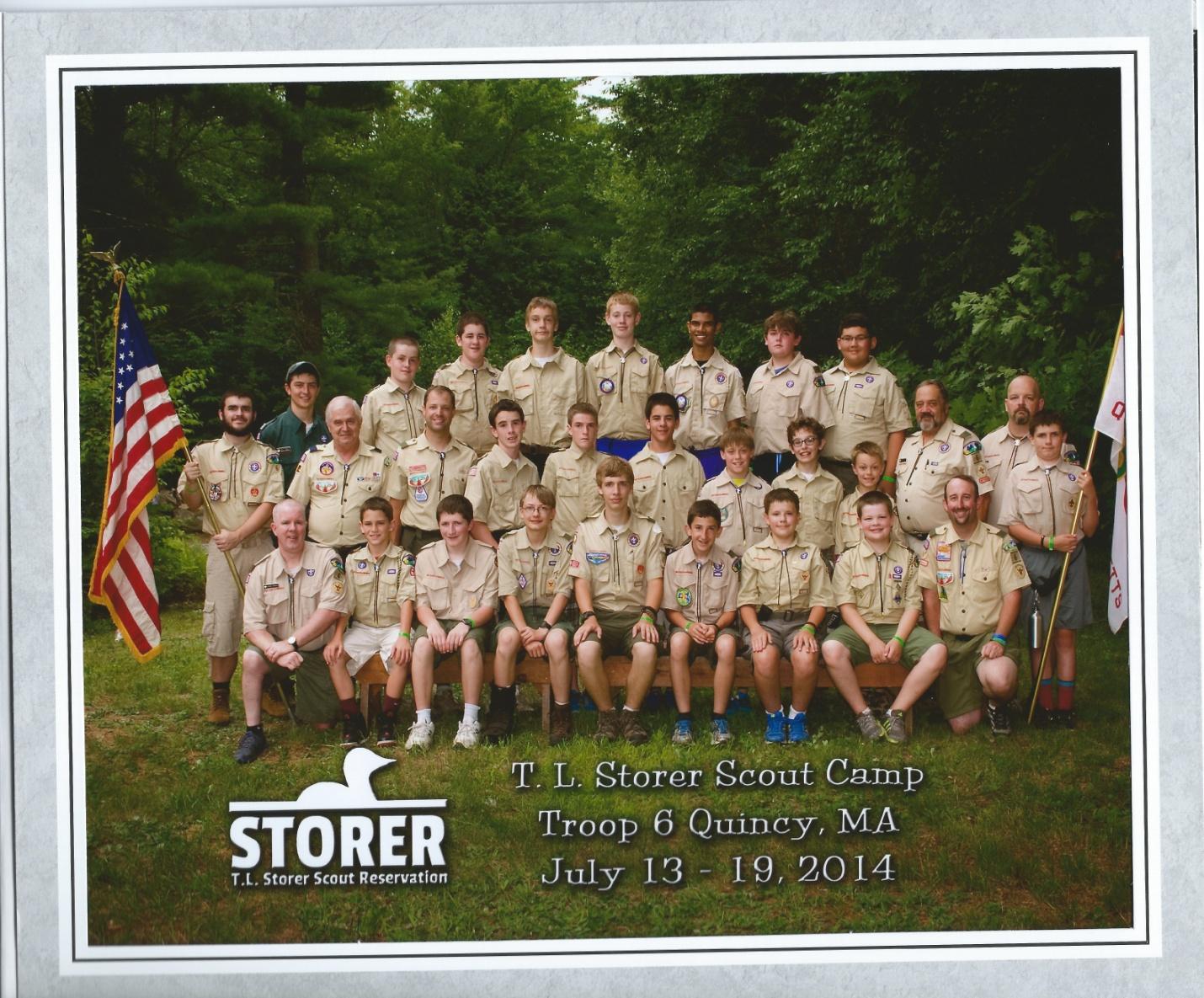 We are also extremely proud that two members of Troop 6, Matt Mroz and Gaelin Kurtzman, were working on staff at camp, and we had two boys, Paul Donahue and Matt Hanly, attend a special week of camp for youth leadership training.
August is going to be a quiet month for us, but we start September with a bang! We will be hiking Franconia Notch and Mt. Lafayette and staying overnight in the Appalachian Mountain Club's Greenleaf Hut on the first weekend in September.
Registration for the '14-'15 Scouting season is Monday, September 8th and 15th at 7PM at the Houghs Neck Congregational Church - hope to see some new faces this year!!
Our next bottle drives are August 9th and September 13th from 9-12 in Labrecque Field parking lot, and will continue to be the second Saturday of every month. Please remember that the bottle drives are our main means of fundraising for the Troop, and we really appreciate your contributions. Please feel free to call if you need a pick up!
Yours in Scouting,
Rob Gordon, Scoutmaster Troop 6
Categories: None